Medical Technology Section
The Medical Technology Section of the Department of Anaesthesiology deals with the research and development of innovative systems and concepts on patient care.
In the past years, the anaesthesiologic work place has been provided with a variety of technical devices with the aim of optimizing patient care. The clinical establishment of innovative medical devices led indeed to an improvement of patient safety, quality of patient care and economic advantages. Through a continuous technical progress, especially concerning automation and modern communication technology, new possibilities have arisen constantly, but it has also led to new challenges for medical as well as clinical motivated innovations.
Even in emergency and disaster medicine, high-technical strategies can be used to support emergency personnel in special operations to master various medical-tactical challenges.
From our point of view, there are four essential aspects for all subsections of anaesthesiology (anaesthesia, intensive care medicine, emergency medicine and pain therapy) given in this context:
Innovative (e.g. contactless or imperceptible) sensor technology
Advantages through network and integration (e.g. of medical devices among each other or with superordinate IT-systems, of hospital units or clinics among each other, benchmarking, emergency orientated MCIs)
Telemedicine (e.g. tele consultations with a tele emergency physician through a rescue service, supervision of assistant physicians through a senior physician)
Data collection and interpretation ("Big Data" concepts, concepts on aggregation and consolidation of data, smart alarm systems, Decision Support Systems, etc.)
The mentioned aspects are highly relevant for many research emphases. Within our interdisciplinary section, theme-associated projects are focused and coordinated. In doing so, engineers, computer scientists and clinical doctors work closely and cooperate with several chairs of the RWTH and external (national as well as international) partners to enable synergies and well-structured networks.
Aktuelles und Veranstaltungskalender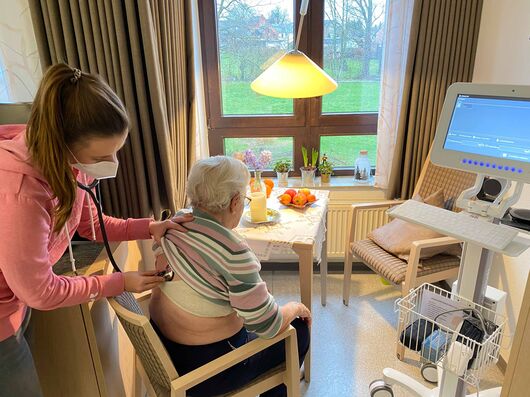 Telemedizin in Pflegeeinrichtungen: Forschungsprojekt AIDA gewinnt während Pandemie an Bedeutung
Im Januar 2020 ist das Forschungsprojekt AIDA (Arbeitsentwicklung in der Altenpflege durch Einführung eines telemedizinischen Notdienst-Konzeptes) unter Leitung der Sektion Medizintechnik der Klinik…
Roboter TEMI an Weihnachten im Einsatz
Das Robotersystem TEMI ist an Weihnachten wieder im Einsatz, um den Patientinnen und Patienten in der Klinik für Altersmedizin an der Uniklinik RWTH Aachen – Franziskus einen Kontakt zur Familie zu…
Calendar of events
To the calendar of events of the Uniklinik RWTH Aachen