Research Group OMFS digital (AG MKG digital)
Artificial Intelligence, Mixed Reality & 3D Printing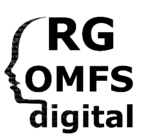 We are a team of young researchers with the goal of digital transformation in oral and maxillofacial surgery (OMFS) by using the latest technological developments to advance our speciality. On the user side, we are working with augmented and virtual reality to support the surgeon in planning and performing surgical procedures. On the data side, artificial intelligence is applied to simultaneously provide decision support and new insights to improve these surgical processes and patient management. The long-term goal is to bring both worlds together to achieve a user- and data-driven digital transformation.