M&M – Machine Learning and Musculoskeletal Imaging
As (more or less) young clinicians and researchers, we are an interdisciplinary group of people who work on advanced imaging methods to improve diagnostics and treatment guidance in a variety of fields. Our main goal is to refine imaging to improve patient care by bringing together profound clinical expertise, a deep understanding of imaging, a hands-on approach to engineering, and refined computer skills. Our main tools are our MRI scanners and the respective hardware and software equipment, human and artificial intelligence, and mechanical and computational models. Our main areas of interest involve musculoskeletal imaging, cancer detection, and superordinate machine learning frameworks.
Background
In the clinic, advanced medical imaging has revolutionized patient care over the last decades by earlier identification and refined graduation of diseases, by therapeutic decision-making, and by monitoring of treatment outcomes. As one of the top developments in the field of medicine, advanced medical imaging offers great benefits to patients and doctors. Every patient we encounter in our clinical practice teaches us that there is still room for medical and technical improvement, even though medicine and medical technology have come a long way. If you are interested, please have a look at our current projects.
Affiliations
We are principally based at the Department of Diagnostic and Interventional Radiology of the University Hospital Aachen (Germany) in close proximity to neighbouring Belgium and the Netherlands. In addition, we are closely affiliated with the Department of Diagnostic and Interventional Radiology of the University Hospital Düsseldorf (Germany) and the Institute of Computer Vision (RWTH Aachen University). Moreover, we have numerous collaborations with local, national, and international partner institutions.
Funding
We are currently funded by the German Research Foundation and the Medical Faculty of RWTH Aachen University.
Contact (Group Leaders)
Priv.-Doz. Dr. med. Dipl.-Phys. Daniel Truhn
dtruhnukaachende
Priv.-Doz. Dr. med. Sven Nebelung
snebelungukaachende
Team
Research
As a major clinical and scientific focus of the Department of Diagnostic and Interventional Radiology (University Hospital Aachen), our research questions are derived from the daily clinical work with patients and are subsequently dealt with in cooperation with numerous local, national, and international institutes across a variety of disciplines.The group's overarching premise is the translational use of advanced image acquisition and post-processing techniques to benefit our patients. Often termed "from bench to bedside", we take this approach seriously to make sure our techniques work on tissue samples, cadaveric joints and extremities before we implement them for clinical use and validation on volunteers and patients.

What exactly are we working on?
Detection of early osteoarthritis, a widespread clinical condition with huge individual and socioeconomic disease burden, at a potentially reversible stage. Just talk to virtually anyone above the age of 70 to learn more about the need of improved diagnostics and therapies….
Functional imaging of tissues and joints to get an insight into their status and function. Just look at your car's broken shock absorber with its limited use. Same applies to cartilage, meniscus, ligaments and so on…
Artificial Intelligence-assisted image acquisition and processing to improve, standardize, and streamline diagnostic processes. Just imagine a fatigued radiologist who hasn't slept for a while looking at your study – besides sleeping well, he/she could use some smart assistance when assessing your images…
Further clinical research questions as they come along concern knee, hip and shoulder joint injuries, traumatological questions of the spine, and medical education.

What exact tools are we using?
In addition to state-of-the-art MRI techniques, we apply sophisticated biomechanical devices, differentiated techniques of automated image processing (machine learning) and computer-based simulations (computational engineering) that are developed and applied in close cooperation with the technical institutes of RWTH Aachen University.

Who exactly pays for our research?
Funding is provided both internally (by RWTH Aachen University and the Heinrich-Heine-University) and externally by national funding agencies (e.g. DFG - German Research Association).

Get in touch with this group at dtruhnukaachende or snebelungukaachende.
Machine learning has recently entered the world of medical imaging and clearly offers the potential to revolutionize modern imaging. It refers to any algorithm that draws conclusions from data and learns and improves automatically when fed with more training data.
In radiology, data are mostly images and machine-learning algorithms are often colloquially referred to as "artificial intelligence" (AI). Prominent people have speculated that training of radiologists should be stopped, as machine learning is going to replace radiologists until 2021 (Read more on: Why Ai will not replace radiologists.). Well, 2021 has come and radiologists are still around and evaluating their patient's images. Naturally, radiologists consider themselves as indispensable and this view is shared by many others, too. "Artificial intelligence" will most likely complement human intelligence and AI clearly offers the potential to make radiologists more efficient, improve the diagnostic quality - by standardizing workflow and guiding radiologists to potential findings - and to uncover hitherto unknown relations by mining from "big data". Thus, our research focuses on how machine learning algorithms can be brought into clinical practice and how they can support clinicians, both radiologist (if they are still around) and others.
What exactly are we working on?
Deriving Patients Diagnoses from Images:
Machine-learning algorithms can be trained on specific questions such as: "Is there a tear of the cruciate ligaments?" or "Is there a malignant breast lesion in the MRI?". University hospitals such as ours acquire vast amounts of images and reports describing the diagnoses are written by experienced radiologists all the time. We build upon this database to develop our algorithms.
Automated detection of breast carcinoma (left), partial tear of the cruciate ligament (middle) and visualization of where the neural network focuses on its attention (right).

Using Machine Learning to Generate New Tools:
Image interpretation is intrinsically limited by what the human mind perceives. The human mind is well adapted to intuitive pattern recognition, less so to quantitative analyses. We use machine learning to generate and present data that is usually not accessible to radiologists such as quantitative measures of the relative positions of anatomic structures to each other (e.g. bones), average thickness, volume, and surface area (e.g. of articular cartilage), and texture patterns across 2D images or 3D volumes.
Automated segmentation of bones (right) and 3D render of the segmented volumes (left).

Advance Machine Learning Methodically:
Machine learning in medicine requires vast amounts of data. The problem is that medical images are highly sensitive and cannot be shared easily to create even larger databases. We work on creating "artificial" radiological images that can be shared without disclosing patient-specific and sensitive information or that can also be used to generate new tools for teaching clinicians on how to interpret radiological images.
From left to right: real x-ray without pathology, real x-ray with cardiomegaly, artificially generated x-ray without pathology and artificially generated x-ray with cardiomegaly.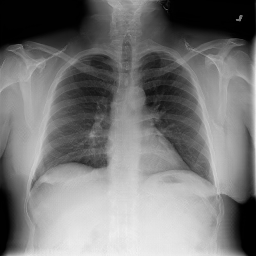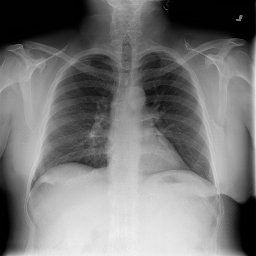 Transition from a non-pathological x-ray to cardiomegaly (left) and effusion (right) respectively. Both x-rays are not real but have been generated by neural networks.

What is our goal ?
We want to advance machine learning algorithms so that they can bring real clinical benefit to the clinician, the patient, and the entire health infrastructure. To this end, we collaborate closely with fellow clinical radiologists, other clinical disciplines, imaging and big data scientists as well as others.

Who pays for our research ?
Funding is provided both internally (by the Departments of Diagnostic and Interventional Radiology in Aachen and Düsseldorf) and externally by national funding agencies (e.g. DFG).

Get in touch with this group at dtruhnukaachende or snebelungukaachende.
Publications
Interested in joining the team?
We regularly invite applications for Master's Theses ("Abschlussarbeiten") and Doctoral Theses as well as PhD projects ("Dr.-Arbeiten" - Dr. med., Dr. rer. medic., Dr.-Ing., Dr. rer. nat.) that are related to the main research areas of our group. Projects for theses and dissertations come from the broad interface of medicine, the imaging sciences, and the engineering and natural sciences, including physics, electrical and mechanical engineering, as well as the computer sciences, and may be pursued in our department and in close cooperation with respective institutes from RWTH Aachen University.
If you want to be a part of the team, we have put together further information and possible projects for master's theses. For further information on doctoral dissertations / PhD projects please get in touch with us directly at dtruhnukaachende [PD Dr. med. Dipl.-Phys. Daniel Truhn], tnolteukaachende [Dr. rer. nat. Teresa Nolte], or snebelungukaachende [PD Dr. med. Sven Nebelung].